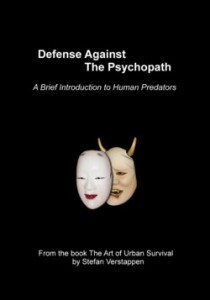 Defense Against the Psychopath
This 30 page booklet excerpted from chapter 1 of The Art of Urban Survival is available in booklet form you can download for free and share with friends and family.
This is a brief study guide to teach people how to recognize and defend against our society's most dangerous predators, psychopaths.
Download Defense Against Psychopath for free!
Click here if you would like to order a printed copy.
Watch the video below