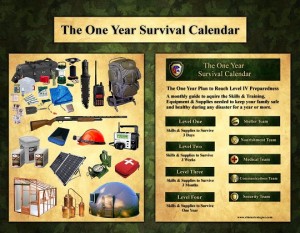 The One Year Survival Plan to Reach Level IV Preparedness
This one year plan is a month-by-month guide to reach Level IV Preparedness – To have the Skills & Training, Equipment & Supplies needed to keep your family safe and healthy during any disaster for a year or more.
 Each month lists the skills you should learn, the equipment you should gather, and the supplies you should have to guide you through four levels of preparedness. Starting from the basics and gradually becoming more specialized, this monthly plan is simple to follow and covers all five aspects of emergency preparedness.
Price:
$14.99,
Ships in 3-5 business days.
Watch the video here: