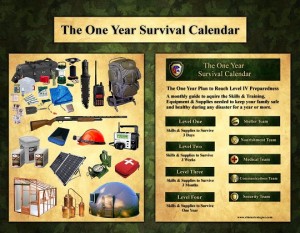 The One Year Survival Plan to Reach Level IV Preparedness
This one year plan is a month-by-month guide to reach Level IV Preparedness – To have the Skills & Training, Equipment & Supplies needed to keep your family safe and healthy during any disaster for a year or more.
 Each month lists the skills you should learn, the equipment you should gather, and the supplies you should have to guide you through four levels of preparedness. Starting from the basics and gradually becoming more specialized, this monthly plan is simple to follow and covers all five aspects of emergency preparedness.
Price:
$14.99,
Ships in 3-5 business days.
Watch the video here:

---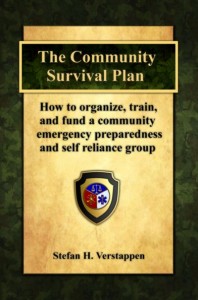 The Community Survival Plan
How to Organize, Train, and Fund a Community Preparedness and Self-Reliance Group
During the early stages of a catastrophic disaster, most communities will have to deal with the crisis on their own.
The greatest number of injuries and deaths occur during the early stages of an emergency, and that the sooner help arrives, the greater the chance of saving lives.
If communities were organized that would undergo some basic training in disaster survival and rescue skills, they would improve the ability of citizens to survive and to safely help others until responders or other assistance could arrive.
Watch the slide show presentation that explains the book below.